The Hebrew Writers Association in Israel, was established in 1921. Its inception was graced by luminaries of Hebrew literature like H. N. Bialik, Saul Tchernichovsky, Amalia Kahana-Carmon and others. Currently, the writer Tsvika Nir holds the position of chairperson.
Across its storied existence, The Hebrew Writers Association has consistently epitomized excellence in Hebrew literature. Presently, it boasts a membership of approximately five hundred individuals, including writers, poets, and literary scholars, all participating at varying degrees in organizational activities.
The Association hosts an array of literary events each year, including book launches, reading soirées, literary discussions, symposia, participation in literary festivals, and more.
The Hebrew Writers Association fosters global connections with writers and similar associations worldwide. It stands as both a patron of prestigious literary awards, notably the coveted Brener Prize, and the driving force behind distinctive literary initiatives. Notably, it operates the renowned Beit Hasofer in Tel Aviv, a sanctuary for Israeli literature.
Adding to its portfolio, the Association publishes the bi-monthly literary magazine Moznaim, providing a platform for literary expression and exploration.
A notable feather in the Association's cap is the operation of Gnazim (treasure) of the Hebrew Writers, the world's most extensive repository of Hebrew literary manuscripts and documents. Housed adjacent to the Tel Aviv Museum in the heart of the city's cultural hub, this treasure trove resides within the Tel Aviv Central Library building. It houses manuscripts and materials from virtually all giants of Hebrew literature. Continuously expanding, the archive is readily accessible to the public, drawing daily visits from students, researchers, journalists, and literary scholars hailing from Israel, the U.S., and various corners of the globe.
Dr. Shlomit Aharoni Lir serves as the Chair of the Foreign Affairs Committee within the Association. Comprising the committee are esteemed individuals including Dr. Dorit Silverman, Meir Oziel, Dr. Darya Maoz, Debbie Saar, and Michal Doron. Endeavors to foster collaborations with akin organizations, and correspondence are welcomed through the email address: events@hebrew-writers.org.
We extend an open invitation to connect with us, offering the opportunity to exchange insights about your undertakings. Your engagement is highly valued and eagerly anticipated.
---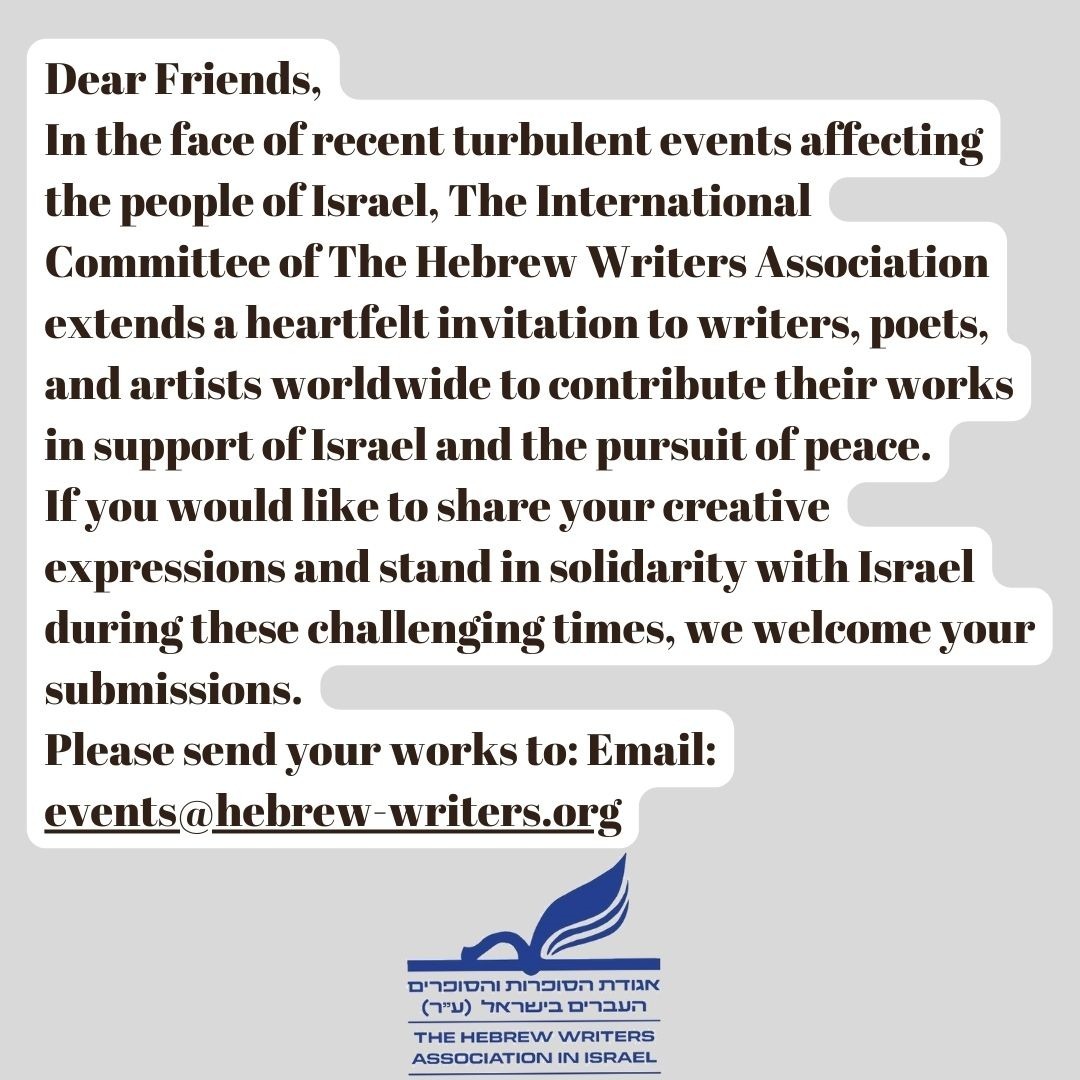 Dear Friends,
In the face of recent turbulent events affecting the people of Israel, The International Committee of The Hebrew Writers Association extends a heartfelt invitation to writers, poets, and artists worldwide to contribute their works in support of Israel and the pursuit of peace.
If you would like to share your creative expressions and stand in solidarity with Israel during these challenging times, we welcome your submissions.
Please send your works to: Email:
events@hebrew-writers.org